5 Steps to Discover Your Next
A self-paced course designed to help you figure out you want to do next with your life and give you the confidence to take action
Enroll in Course
Feeling stuck or lost trying to figure out what do next
with your life or career?
Do you want and need a change, but you're not sure how to make it and paralyzed by all the "what ifs"?
Have you tried to work out what it might be,
but you just can't seem to get clear?
Are you ready to figure out your next step and
move forward with clarity and confidence?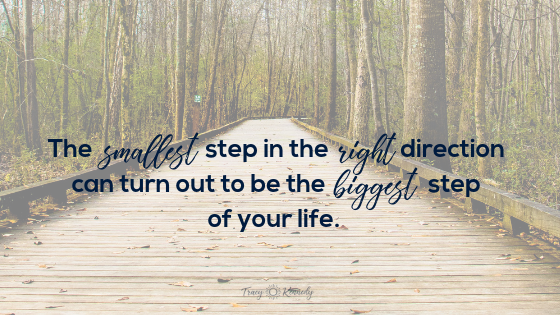 If you're ready to figure out your next step and move forward with clarity, excitement, and certainty you're heading in the right direction….this course is for you.
This course will help you identify what you want to do next with your life and career and give you the confidence and energy to be unstoppable in making it happen.

You'll get an inspiring, solutions-focused, value-packed program that walks you through my exclusive, 5-step process.

You'll get videos, activities and a step-by-step workbook to guide you along the way.

You'll get the tools, processes and underlying philosophies I use in my coaching practice and teach all my clients - and they work.
Are you ready? Let's get started!

Here's what you'll get in this premier course:
6 Engaging Course Modules Each module contains a video lesson, time to pause and reflect, assignments, actions to move forward and downloadable inspiration to keep you going.
My Exclusive 5 Step Process to Discover Your Next: a proven process that works
5 Key Philosophies that will change the way you think and positively impact your life. (Many clients have shared that these philosophies were key to their biggest breakthroughs)
An 18-page Course Workbook to guide you step-by-step through the process
A mix of inspiration and action, tried-and-true processes and strategies, a step-by-step approach, and a lot of heart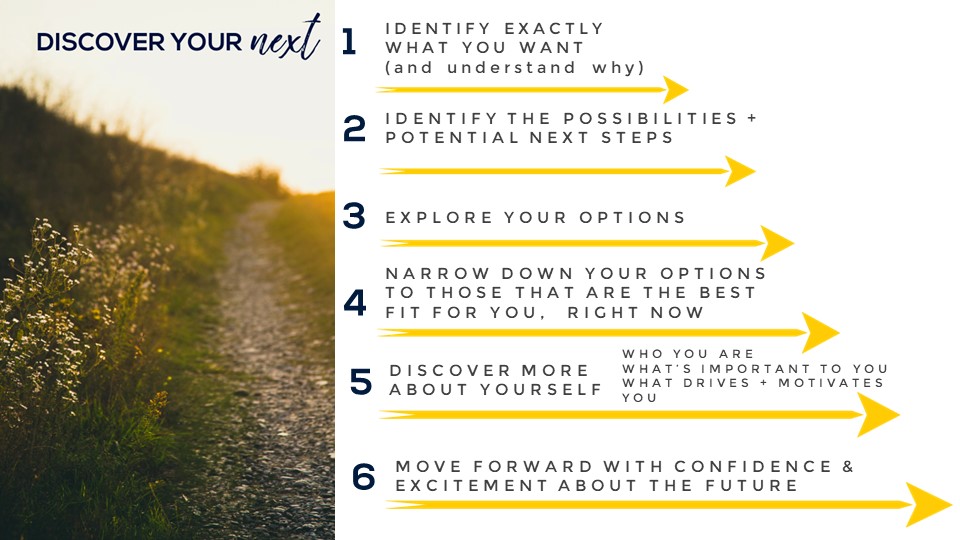 Course Bonuses:
Downloadable, Beautifully Designed Inspiration Cards - Save to your desktop, phone or anywhere you could use some inspiration.

Your Instinctive Drives Profile (value $50) - The Instinctive Drives questionnaire reveals your innate drives and motivations, uncovering exactly what you need to be at your best – personally and professionally.
More About the Instinctive Drives Profile BONUS
By completing the Instinctive Drives questionnaire, you'll discover exactly what you need to be at your best; the natural talents you can leverage and the natural vulnerabilities to watch out for. You'll also get heaps of targeted, practical strategies to help you get the results you're seeking. Unlike other profiling tools that measure behavior and personality, the Instinctive Drives System gets to the heart of how you're naturally wired - take the questionnaire once and you'll have a life-time personal success code. This bonus is valued at $50.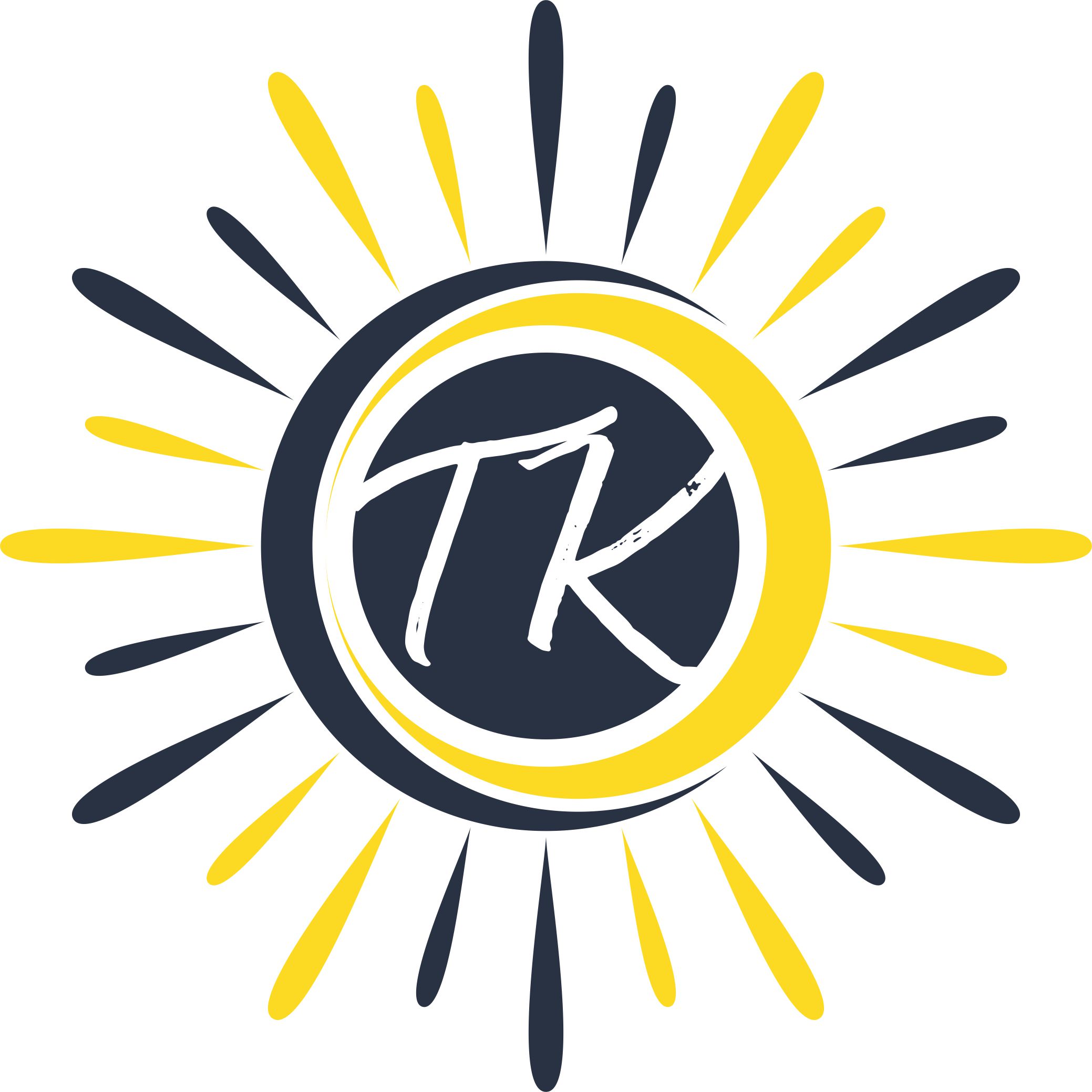 "This is more than a course. It's a personal growth experience and a decision-making tool that will last a lifetime. Before I took the course, I felt overwhelmed and agonized over what I should do next with my life. By the first step of the course, I was excited, energized and ready for what was to come. This is the first time I've felt truly confident in my decision which has skyrocketed the likelihood that I can and will bring it to life. Worth. Every. Penny." — Jessie
"I already had 3 ah-ha moments in the first step, thank you!" – Sue
"This course was truly worth the investment of my time and energy. I am not normally a person to choose an online course, however, I was fully engaged. In our busy world where there is so much information coming in- and all of it telling you what you should do, what you should be scared of and how you should feel- it is easy to get off track or get stuck in decision paralysis – which I was. I had so many ideas and choices in all areas of my life- I didn't know where to start or focus. I was overwhelmed and confused. Tracy's course gave me the content, prompts and space to get it all out of my head and heart and look at it on paper. I can with complete confidence say, if you are ready for your next step, your first step is to sign up for this course now - because Tracy will help you silence the noise around you, open up your mind and heart to your possibilities and empower you to create your plan forward." -- Briane
Your Instructor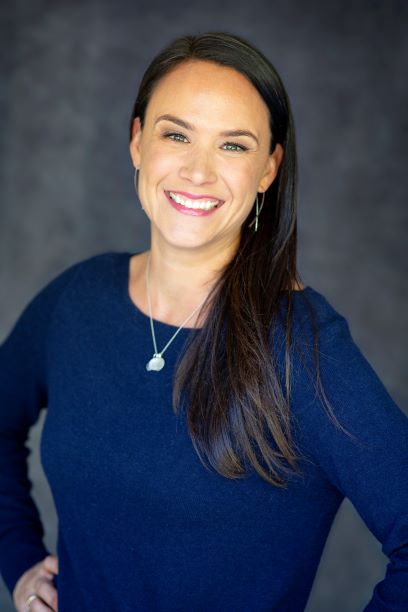 I'm so glad you're here. As a results-driven coach, consultant, trainer, and facilitator, I partner with individuals to help them live a life they love.
I've designed this course because it deeply saddens me how many people are stressed out, overwhelmed and unhappy – personally and professionally. We have one life to live and I believe we can all live a life we love (or at least really like!)
As you consider this course, know this. I've been right where you are, right now. I know how hard it is. I've made many life and career changes over the years and I wish I had a process like this for each of them. I've also worked with hundreds of clients over the course of my career who were standing at a crossroads or point of transition in their lives: working out how to step up in a current role, wanting to head off in a completely new career or life direction, returning to work after time away, trying to make a major life decision, taking their business or personal life to the next level…or just wondering what they're doing with their life.
I've incorporated everything I've learned over the last twenty years into a process that helps people figure out their next step and fast-track them to where they want to be. What I am about to teach you are the tools, processes and underlying philosophies I use in my coaching practice and teach all my clients – and use for myself - and they work.
My goal for you, as it is with each of my clients, is that this course will help you discover your next, and give you the confidence and energy to be unstoppable in making it happen.
Here's to living a life you love!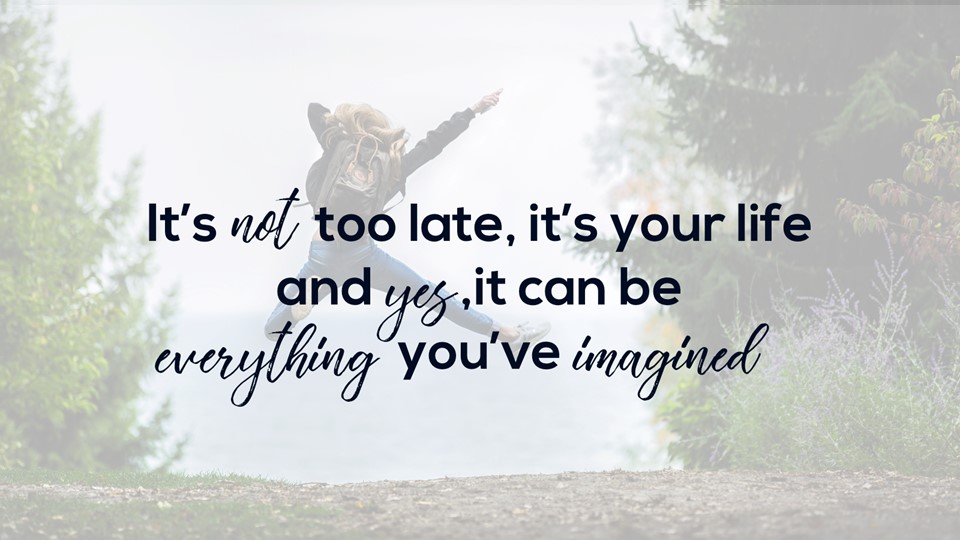 Frequently Asked Questions
When does the course start and finish?
The course starts now and never ends! It is a completely self-paced online course - you decide when you start and when you finish. We recommend planning on about 6 weeks to complete the course using our guided timeline. However, you are welcome to work through the material more quickly if you'd like. Once you enroll, you'll get access to the full six weeks. You have up to 12 weeks after you enroll to schedule your coaching call.
How long do I have access to the course?
How does lifetime access sound? After enrolling, you have unlimited access to this course for as long as you like - across any and all devices you own.
Is this course right for me?
This course is designed for anyone who's looking to figure out what they want next in their life. It's great for students trying to work out their major or first career. It's fantastic for those in a mid-life career change or crisis and is looking for their second act or next opportunity. It's perfect for moms who are struggling with the decisions about how they move forward. It's awesome for those who are retiring and looking for what they want to do in this next stage of their life. In fact, one participant emailed me back how much clarity she has gotten about this next stage in her life (and that wasn't even her original purpose for taking this course!). So, to be clear, this course is for anyone with the desire and motivation to figure out their next step, anyone who needs a jump start or shift in energy and anyone who would love to learn more about themselves.